Good Quality Automatic Apple Juice Filling Machine Juice Washing Filling Capping 3 In 1 Machine
Characteristics of Fruit Juice Filling Machine
1. Using the wind sent access and move wheel in the bottle directly connected technology; canceled screw and conveyor chains, this enable the change the bottle-shaped become easier.
2. Bottles transmission adopt clip bottleneck technology, bottle-shaped transform not need to adjust the equipment level, only change related the curved plate, wheel and nylon parts is enough..
3. The specially designed stainless steel bottle washing machine clip is solid and durable, no touch with the screw location of bottle mouth to avoid secondary pollution.
4. High-speed large gravity flow valve filling valve, filling fast, filling accurate and no liquid lose.
5. Spiraling decline when output bottle, transform bottle shape no need to adjust the height of conveyor chains.
6. Host adopt advanced PLC automatic control technology, the key electrical components from famous company such as Japan\'s Mitsubishi, France Schneider, OMRON.
Functions
of Fruit Juice Filling Machine
Juice Rinser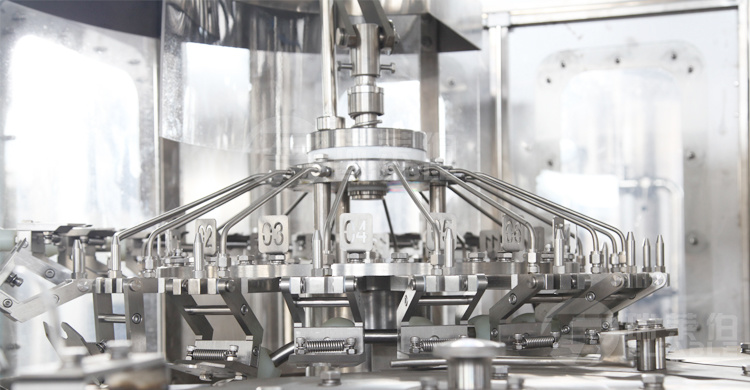 -Rotative rinsing turret one treatment, fixed nozzles, with grippers.
-The grippers take the bottles from the inlet star-wheel while they are still driven by the star-wheel, thus guaranteeing a safe grip.
-After the gripping, the bottle is turned upside down and cantred above a spraying nozzle which directs a stream of rinse water into the bottle. After the draining period the bottle is turned over to an upright position again.
Juice Filler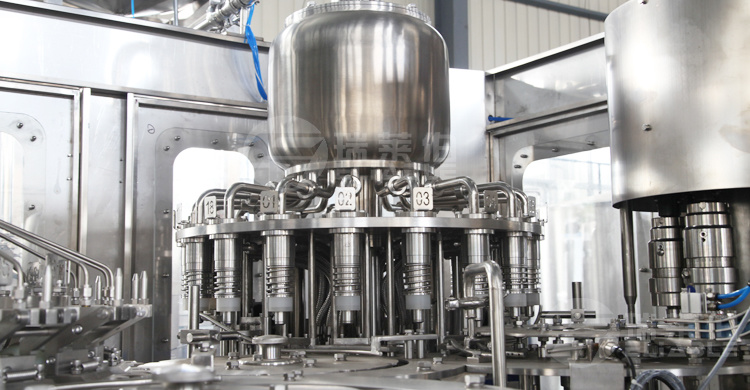 -The star-wheels drive the bottles always "by the neck" through the rinsing, filling and capping steps. For the various types of bottle, it is easy to adjust the structure for the operator by our specialized design.
-Product bowl is to reduce the loss of heat.
-If the temperature is low than the setting value, the filling valves will stop and return the last beverage in filling valve to recycle tank and return to UHT again to sterilize with pump.
Juice Capper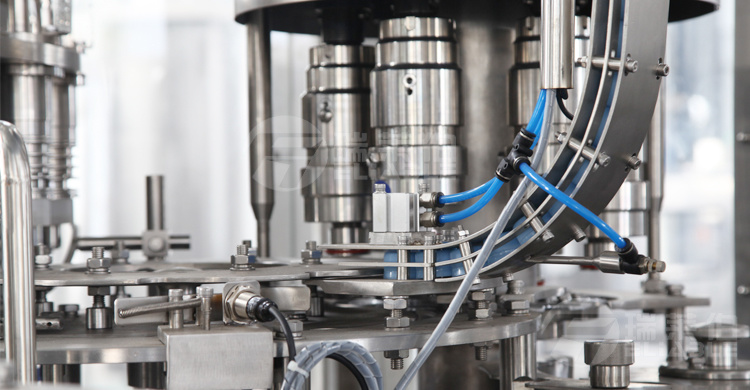 -Rotative capping turret, suitable to the application of screw plastic caps on PET bottles
-The fixed part consists of the cap hopper, the cap feeder with relevant motor and the cam actuating the capping heads.
-The heads are raised and lowered by the action of a follower that is riding on a shaped cam.
Technical Data
Model
CGFR8-8-3
CGFR12-12-6
CGFR18-18-6
CGFR24-24-8
CGFR32-32-8
CGFR40-40-10
Rinsing Head No
8
12
18
24
32
40
Filling Head No
8
12
18
24
32
40
Capping Head No
3
6
6
8
8
12/10
RatedCapacity
(500ml)
2000BPH
4000BPH
7000-8000BPH
10000-12000BPH
12000-15000BPH
15000-18000BPH
Overall Size (mm)
1900*1420*2000
2200*1600*2300
2450*1900*2300
2750*2180*2400
4000*2300*2300
4550*2650*2300
Weight
1.5T
2.2T
3.0T
4.0T
8.0T
12.0T
Power(KW)
3.0kw
3.5kw
4.0kw
4.8kw
7.6kw
8.3Kw
Rated Voltage
380V
380V
380V
380V
380V
380V
Complete Production Line

Part 1. Water Treatment System
1
Water resource pump
6T
1 set
2
Sand filter
SYS-6
1 set
3
Active carbon filter
GHT-6
1 set
4
Precision filter
JML-6
1 set
5
High Pressure Pump
/
1 set
6
Reverse Osmosis filter
RO-3
1 set
7
UV sterilizer
/
1 set
8
Water Tank
3T/H
1 set
9
Pipe, Valves
SUS304
1set
Part2. Juice Mixing System
1
Syrup Melting Tank
500L/H
1 set
2
Beverage pump
3000L/H
4sets
3
Double heads filter
2000L/H
1set
4
Blending tank
3000L/H
2sets
5
Vacuum deaerator
3000L/H
1set
6
Homogenizer
3000L/H
1set
7
Heating and Cooling Crock
2000L/H
2sets
8
UHT Sterilizer(semi-automatic)
3000L/H
1set
9
CIP Cleaning system
/
1set
10
Pipes and valves
/
1set
11
Control Cabinet
/
1 set
Part 3. Juice Bottle Filling & Packing System
1
3 in 1 Juice Bottle Filling Machine
CGFR18-18-6
8000BPH
1 set
Cap loader
/
1set
2
Light checker
DJ
1 set
3
Bottle dryer
BD
1 set
4
Full Automatic PVC sleeve labeling machine
SLM-150
1set
5
Date Printer
IC-55
1set
6
Automatic Shrink Wrapping Package Machine
RM-150A
1set
Reliable Service
Pre-sale service
1. Act a good adviser and assistant of clients enable them to get rich and returns on their investments.
2. Select correct and suitable equipment model
3. Design and make products according to clients' special requests

On-sale service
1. Reporting on machine situation from time to time.
2. Pre-check and accept products ahead of delivery
3. Drawing workshop layout
4. Train the first-line operators

After-sale service
1. Provide considerable services to minimize client's worries.
2. Assist clients to prepare for the first construction schedule.
3. Install and debug the equipment
4. Examine the equipment
5. Take initiative to eliminate the troubles rapidly
6. Provide perfect service
Company information
Our company has years of design experience and numbers of proprietary technologies. Reliable has been always committing himself to offer varies stand-alone devices and complete solution to drinks and brewers makers since establishment.No matter whether it is water filling, hot filling,Carbonated filling and aseptic cold filling, or in recent years the development of PET bottles and glass bottles of alcoholic filling line and oil filling line.Reliable is able to provide you all kinds of consummate projects and service!
Welcome to Zhangjiagang Reliable Machinery Co.,Ltd to see the Fruit Juice Filling Machine Running!