Product Introduction:
Insulation Crepe Paper is one of the most important solid insulation materials used in transformers. Its quality directly influences the life span of the transformer. The BDV is enhanced by up to 80% as compared to base kraft paper. To ensure of best quality of Crepe paper, the base kraft paper is manufactured using longer fibers of pure wood pulp.
Standard base paper thickness: 0.05mm,0.075mm, 0.08mm & 0.13mm
Made of electrical grade insulation crepe kraft paper, these tubes are used as sleeves for interconnection of terminals, and well used in the oil-type transformers with higher rate of absorption of oil to ensure higher dielectric strength compared to conventional SRBP tubes. They can be bent under extreme conditions without collapsing. Different inner diameter and outer diameter can be offered by customers' requirement.
Standard length is 1100 mm.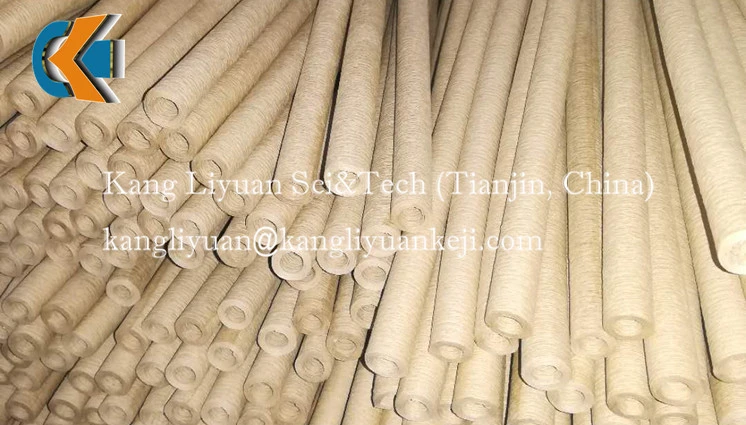 Product Description
1. Composition: Crepe tubes made from 100% electrical kraft paper 100% using non ionized water during crepe process to maintain electric properties. Special adhesive is used which it has a good resistance to oil transformer.
2. Properties: High flexibility. High turn capability.
No stress when tube is stretched.
No contamination of oil transformer is guaranteed.
Our advantage
We can offer 1.8m and 2.0m length of this product, which overcame the inconsistency in diameter and easy wrinkling caused by over-length, we can provide crepe paper tubes with various specifications from 4mm inner diameter.
Our crepe paper tubes made by fully-automatic machine, it can never be achieved by manual and semi-automatic machines. With the same inner and outer diameters, and according to transformer design principle, more turns creates higher insulativity and tighter winding which contributes to higher elasticity, flexibility, and stronger resistance to bending. So it is possible to product crepe paper tube with the same specification and the same size. The quality of the finished crepe paper tube made by manual weighs only about half the weight of that made fully-automatically because of small volumes of loose layers and the flexibility and intensity is very low.
Standard crepe tube dimension:
- Inside diameter: since 3mm to 50 mm
- Thickness wall : since 0.8mm to 3,0mm
- Nominal Length: 1800mm, 2000mm,1000 mm as standard
Other type can be delivered under special order,such as below:
Inner / outer diameter and can produce other specification as per client request.
4*6mm,4*8mm,6*9mm,7*8mm,7*9mm,7*10mm,8*10mm,10*12mm,11*12mm,11*13mm,11*14mm,12*16mm,13*14mm,13*16mm,14*16mm,14*17mm,16*19mm,18*21mm,20*25mm,34*38mm,46*50mm,68*72mm,etc.
Technical data

Item

Unit
Thickness of raw material
0.05mm
0.075mm
0.08mm
0.13mm
Thickness of crepe paper
mm
0.35±0.05
0.48±0.08
0.80.60±0.08
0.80±0.10
Ash content
%
≤ 0.7
≤ 0.7
≤ 1.0
≤ 1.0
Moisture
%
6.0-9.0
Diethyl ether
%
≤0.3
≤0.3
≤0.4
≤0.5
Water extract PH value
6.0-8.0
Polluted oil
%
≤0.1

Tensile strength
MD
KN/M
≥1.96
≥2.6
≥3.0
≥3.3
TD
KN/M
≥1.3
≥1.96
≥2.3
≥2.7
Wrinkling
%
≥ 50
Breakdown voltage
V/layer
≥950
≥1000
≥1000
≥1000
Electric conductivity
ms/m
≤8.0
≤8.0
≤9.0
≤10.0
Welcome all inquiries!
Miss Lea