Semi Automatic Tube Filling and Sealing Machine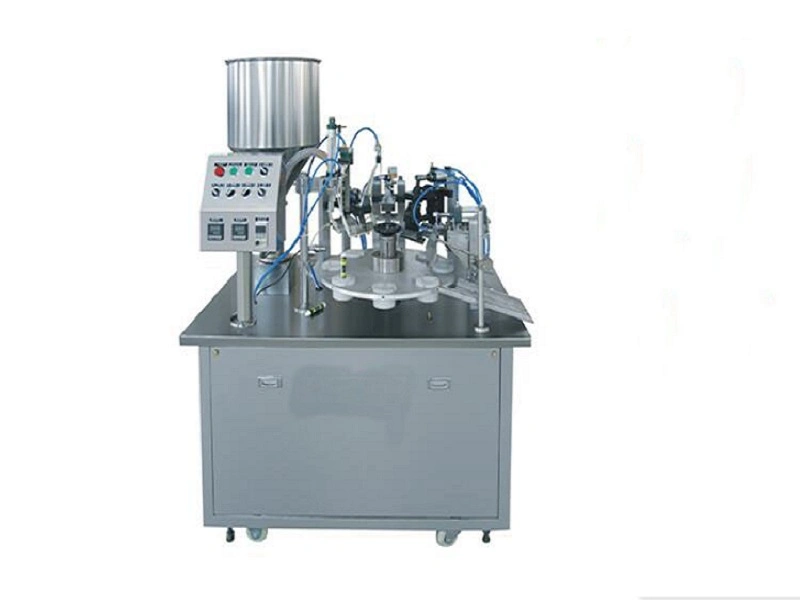 Introduction and application
KP250 - A type of plastic compound soft tube filling sealing machine is our company combined with sealing machine design and manufacturing experience for many years the latest upgrade semi-automatic filling and sealing machine. Using Taiwan technology CAM indexing mechanism drive with a fixture of the rotary table for intermittent movement, complete interior and exterior heating, automatic filling and sealing, pressure code, trimming, finished product exit and a series of functions. Filling accurate measurement, stable heating time, adjustable, sealing beautiful, neat appearance, strong and health. Trimming is flat and level. The machine is set to 10 location, except on artificial tube (the company has a fully automatic tube options), the other can be done automatically. The machine running stable and reliable, no noise and other pollution.
1. The reasonable design, simple operation, suitable for many sets of mould, easy to change
2. The function is all ready, versatility, suitable for all kinds of plastic pipe aluminum composite pipe
3

. of the PLC control system, color code detection more accurate, try long life
4. Adopting drip tight protection wire filling system, liquid paste can apply
5. Heating method for copper inside outside heating and heating, to ensure the sealing strong and beautiful. Temperature and blowing gas adjustment convenient and quick, convenient mould replacement, low cost
6. Date and batch number printing function, can double code
7.
Cut tail part adopts linear guide, ball type high driving accuracy and high efficiency cutting tail
8.
The machine with cutting recycling equipment, the working process of the neat
9.
Environmental protection and material contact part of the material is 304 stainless steel, in line with the GMP standard
10.
All parts are connected with fast loading form, to facilitate disassembly cleaning 11. Optional heat preservation stirred tank for filling viscous flow with
12. Using high quality pneumatic components to ensure the machine running more stable
Main technical parameters